Sponsors showcase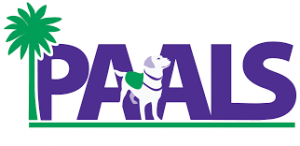 29223
(803) 788-7063
PAALS is a 501(c)(3) charitable organization committed to enriching and empowering children and adults with physical disabilities and social needs by training service animals and providing animal assisted educational and recreational activities.
PAALS trains animals to assist people with varying abilities to live more independent and enriched lives by providing them with assistance dogs. Some of our specially trained canines are taught to turn lights on and off, tug open doors, pick up dropped items and alert for help to assist individuals in wheelchairs. Other dogs go on to assist children with autism and soldiers with PTSD to accomplish therapeutic and real life goals.
During the two-year training period required to produce a service dog from a puppy, PAALS also provides programs for underserved youth, seniors and individuals with disabilities. Some examples of programs that use puppies and dogs in training include a summer camp that brings youth and individuals with disabilities together for assistance dog training, outreach visits to retirement homes and educational programs for youth.
GOAL:$70,000.00
ACHIEVED:$18,200.00
Golf Ball Drop entries:
1325