Chad Agustin: Coach
CPT Chad Agustin has been serving in the U.S. Army Reserve since 2004 and is currently activated and stationed in Overland Park, Kansas; working as an U.S. Army Health Care Recruiter. Chad is also a Police Officer for the Honolulu Police Department when he is not activated.
Chad has filled several leadership positions while he was enlisted and later commissioned as a Medical Service Corps officer in U.S. Army Medical Department. He has been a company commander for a Warrior Transition Unit in Hawaii and worked as a subject matter expert of Warrior Care and Transition while working at the Warrior Transition Command in Washigton, DC. His last position was as the Chief of the Warrior Transition Office in the Regional Health Command-Pacific, overseeing the Wounded, Ill, and Injured program within the U.S. Pacific Command's area of operations.
Chad has a vast of experience playing softball and coaching baseball. He has coached and been a strength coach for several high school baseball teams in Hawaii. Chad is also an Alumni of the All Army Softball Program and is a Gold Medalist in 2014 at the Armed Forces Championships, along with being a USSSA Military World Champion, Police and Fire Games World Champion, selected on the Police Softball All-Star team, an All American Athletics representative, and played on the first all only military service team in the USSSA Conference with Joint Task Force/Louisville Slugger.
Born and raised in Aiea, Hawaii; Chad played NCAA Division I college baseball at the University of Hawaii at Hilo and received a baseball scholarship. He graduated with his Bachelors of Arts in Health and Physical Education, specializing in adaptive sports and special education.
CPT Agustin is married to Jaci Agustin, who currently resides in Hawaii while running for a seat in the State House of Representatives for Hawaii. They have one beautiful child, Chad Jr. (CJ boy), who will be 6 years old this October.
Louisville Slugger Warriors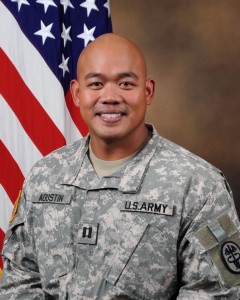 ACHIEVED:$535.00
Golf Ball Drop entries:
64